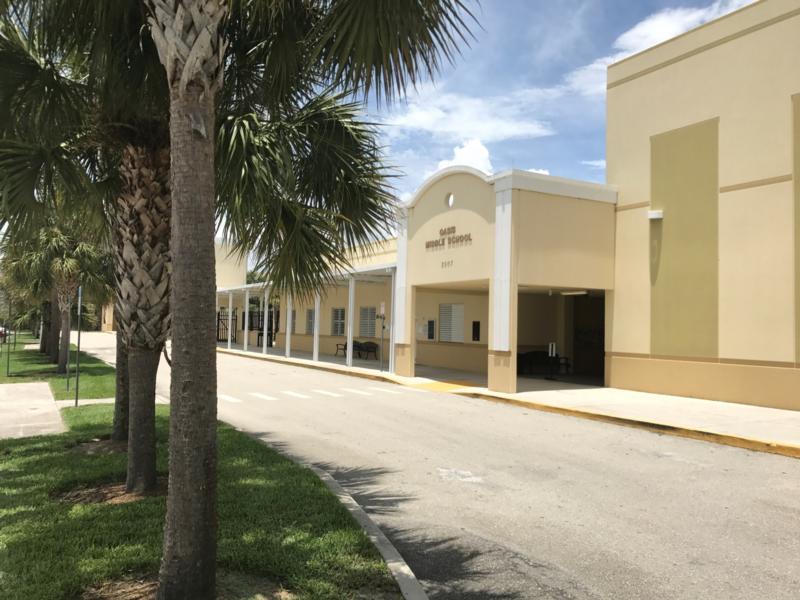 Information Posted by Mr. Hopper...
TOWN HALL MEETING - Wednesday, Sept. 26 - 6:00-7:30 p.m. in the Oasis Middle School Cafeteria. All are welcome to attend. Responses to the latest system survey will be shared.
Beginning tomorrow, from approximately 2:45-4:00 p.m., the Oasis Middle School parking lot gate will be open.
This gate is only for OMS parents picking up/dropping off their child for an after school activity (club, tutoring, intramural, etc.). This should allow you easy access to your child, while avoiding much of the traffic from the OES dismissal process.
Each after school activity will provide students with an appropriate vehicle dashboard sign. The paper sign must be displayed in your vehicle for you to gain access to the OMS gate. You will need to have this sign displayed beginning on Monday, Sept. 24.
Wednesday, Sept. 19 - Early Dismissal Day for Students - we dismiss at 11:30 a.m.
Changes for dismissal - effective now...
Our student pick-up area will switch to the rear of OMS - the same driveway where students are dropped off in the morning.
All buses will load in the front of the school.
Also, in the interest of safety, and with direction from the Cape Coral Police Department, all bikers and walkers are being held in the media center until the student pick-up line has finished.
After school opportunity for students...
Golf Squad at Oasis Middle School is for both new and continuing students and provides weekly opportunities for your child to learn the technical swing mechanics (i.e. putting, chipping, full swing, etc.) as well as the social skills required to enjoy golf, the clubs, and golf course (i.e. vocabulary, etiquette, rules, history, etc.) all under the instruction of an LPGA or PGA Professional
Golf is a very challenging and fun sport that can lead to college scholarships. So start early and start now...boys and girls! Even if your child already plays, it is great to enjoy weekly, convenient lessons from the pro. (Click Here to read more on how and why your child can benefit from continuing professional, golf practice with Golf Squad at your school.)
Below is the Oasis Middle School specific link with additional info and online registration:
https://golfsquad.com/school/oasis-middle-school/
We look forward to building the foundation to enjoy golf for a lifetime together!
We now have an automatic gate at the Oasis Elementary entrance/exit to Oasis Blvd. This gate will typically be closed. All entrance to OMS should be done through the Oasis High gate. You may exit through the Oasis Elementary gate. To activate the gate, you must pull up very close to the closed gate. This will activate the sensor and the gate will open.
Interim Dates, End of Quarter
Interims are given to students; report cards are mailed.
1st Quarter Interims - 9-12-18
1st Quarter Ends - 10-12-18 (45 days)
10-25-18 - approximate mail date of report cards
2nd Quarter Interims - 11-13-18
2nd Quarter Ends - 12-21-18 (46 days)
1-22-19 - approximate mail date of report cards
3rd Quarter Interims - 2-8-19
3rd Quarter Ends - 3-14-19 (44 days)
4-4-19 - approximate mail date of report cards
4th Quarter Interims - 4-24-19
4th Quarter Ends - 5-30-19 (46 days)
6-13-19 - approximate mail date of report cards
Current schedule of club meetings - more clubs coming soon:
Builders Club - meets every other Thursday, including a meeting tomorrow (9-6-18) - Room 205.
TSA - meets every Tuesday and Thursday - Room 204 - 2:20-3:00 p.m.
Photography Club - Room 201 - 2:20-4:00 p.m.
Sept. 5, Sept. 19, Oct. 3, Oct. 17, Oct. 31 - more dates on our website.
Train - Physical Education Training - meets every Thursday - 2:20-3:15 p.m.
Legacy Club - first meeting is Monday, Sept. 17. This group will be raising money for 8th graders to leave a legacy to the school. The club will meet every other Monday. Come get involved with leaving a legacy, while having a great time and meeting new friends.
Book Battle Team - will not meet again until October. Please stop by Room 120 if you are interested in joining our Book Battle team, even if you did not attend the first meeting.
Our Transportation Department is not allowing us to issue any bus passes for the first two weeks of school. Please do not request to ride a different bus home during these first two weeks.
We are an "A" school! Congratulations to all of our students and staff for this awesome achievement. OMS has earned an "A" from the State of Florida for 10 consecutive years! I am very proud of all of you!