Oasis Middle School strongly believes that parent involvement plays a critical role in the growth, development, happiness and success of a child in school. We encourage and invite parents to become involved in their child's education. We offer many opportunities for involvement, which can be accomplished in or out of the classroom, at events, or at home. For a list of available volunteer opportunities look below.
Cafeteria
Parents are needed each day to assist with clean up of the cafeteria and monitoring of students during lunches. Volunteers should report to the front office at 10:45 to get a badge and then report to the cafe.
The full shift is over at 12:45.
This is a great opportunity to watch your student in their native habitat.
We need at least 4 parents per shift. FYI...parents who work the full shift will receive double volunteer hours!
Please sign up here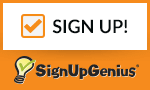 Classroom Needs
Nurse
Our nurse is looking for donations of boxes of tissues, hand sanitizer, Lysol wipes and band-aids for teachers. Drop off to Chris Mell in the front office and be sure to include your name and receipt to collect the Parent Involvement/Volunteer hours!!

We appreciate any and all donations to the clinic!
Art
Ms. Dahl is in need of a few items, if you can provide any of the items please remember to bring your receipt for credit toward Parent Involvement hours!
Paper plates

gallon size
Paper towels

disinfecting wipies